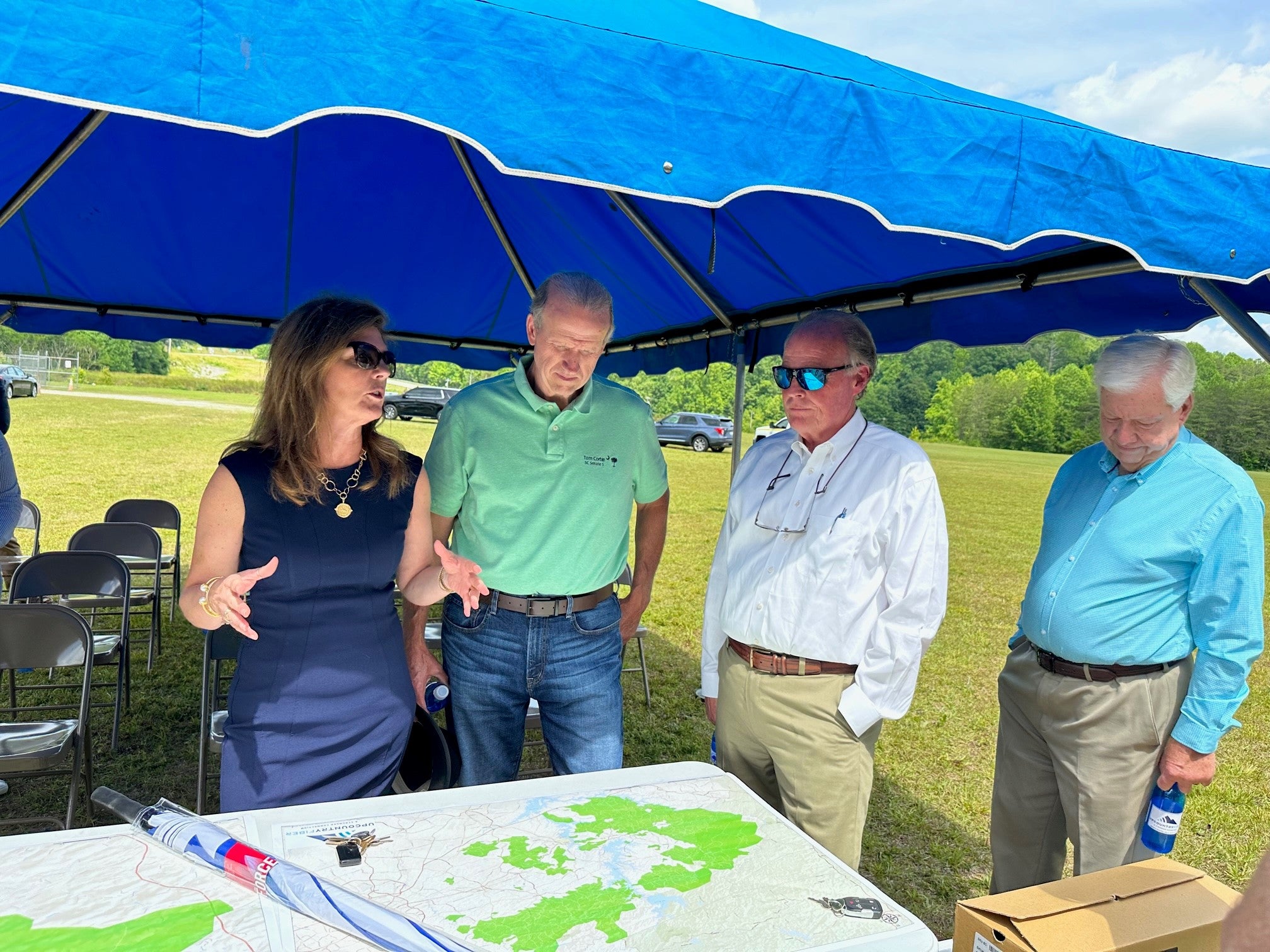 Lieutenant Governor Pamela Evette discusses how the broadband project will affect the people in northern Greenville County that have had very limited access to this service. 
In early June, we were honored to host South Carolina's lieutenant governor, Pamela Evette, as the honored guest on a Blue Ridge-organized field trip.  Also present at the occasion were State Senators Tom Corbin and Dwight Loftis, State House of Representatives member Mike Burns, and Greenville County Councilman Joey Russo.  In addition, Blue Ridge Co-op board member, Kenneth Southerlin, joined Jim Lovinggood and West Carolina Telephone Cooperative CEO Jeff Wilson, for the event. 
In previous meetings, Mr. Lovinggood had shared details of our Upcountry Fiber initiative and specifically the progress being made in extending broadband service to parts of northern Greenville County.  Mrs. Evette had expressed a keen interest in our project and said she would like to have a close-up look at the work in progress.
Mrs. Evette and her family make their home in the Travelers Rest area.  She and her husband are both successful local business leaders in their own right, and their three children are pursuing their educations through the schools there at Travelers Rest.  That proximity to the North Greenville communities where our Upcountry Fiber crews were working heightened her interest in what those crews were accomplishing.
The group went into the field to observe the construction that was under way and to see the actual process of preparing the fiber-optic cable.  Once that task had been completed, she was able to witness the crew members making the new, permanent connections to the individual homes.   Everyone came away with a better understanding of the quality work being done by the installation crews.  They also heard first-hand how access to the internet would open all kinds of opportunities and possibilities for those newly served residents.
We were pleased that Lieutenant Governor Evette took the time to see how Blue Ridge is working to improve the quality of life for our members. South Carolina is blessed to have her working on our behalf within the halls of state government.