Blue Ridge Electric Cooperative, a Touchstone Energy® cooperative, is proud to be an integral part of the communities we serve. That's why we are participating in Co-op Connections, a program that helps you receive discounts on products and services from participating local and national businesses.
FREE to all members! Each member of our co-op receives the Co-op Connections card free. There's no signup. No annual fees. You get your Co-op Connections card simply because you're a member of Blue Ridge Electric.  This is just one more way you benefit from being a cooperative member. As a Touchstone Energy cooperative, we are always "Looking out for you."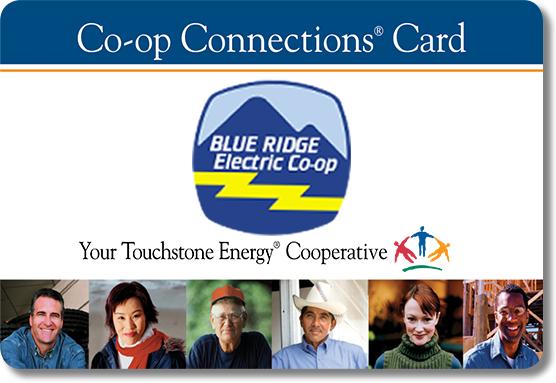 Save on hundreds of local and national discounts - pharmacy savings, online offers, discounts on events, online cash back shopping and more. Members can get their co-op discounts by shopping online through connections.coop, the Co-op Connections mobile app, or by using the card. 
HEALTHY SAVINGS
Pharmacy, dental, vision, diabetic, hearing aids, chiropractic, lab testing, and MRI & CT scans.
HOTEL SAVINGS
Save an average of 20% at over 400,000 locations worldwide. 
EVENT DISCOUNTS
Save 10% at your favorite sporting events, concerts and theaters.
NATIONAL DISCOUNTS
Enjoy a wide variety of discounts that will save you lots of money.
INSURANCE
Save money by getting competitive insurance products.