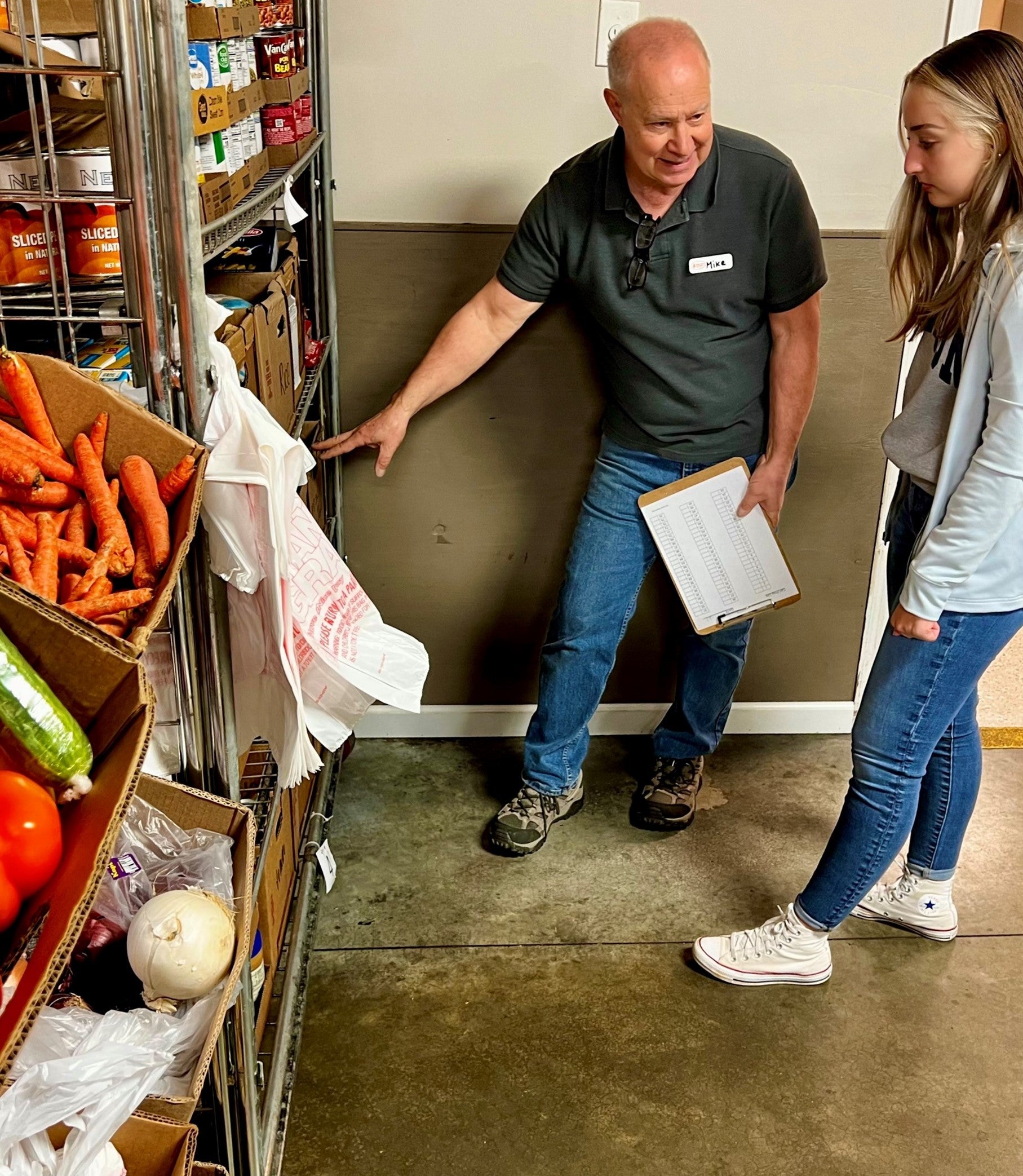 Mike Harlin guides a volunteer through the grocery store set-up the Golden Corner Food Pantry offers their clients twice per week.
Since he was a relatively young retiree, 58, it was Mike Harlin's strong back that was initially of value. After moving to Mountain Rest from New Jersey, he was recruited by his wife Jane to help with loading and unloading food at the Golden Corner Food Pantry in Seneca.
But it was Harlin's acumen for logistics—he'd retired from Macy's as merchandise planner—that soon proved an even greater benefit to those struggling with food insecurities in Oconee County. Since joining the Golden Corner Food Pantry's board of directors in 2017, he has helped the pantry reach more people and in new ways. That difference-making impact earned Harlin the 2022 Who Powers You Award and a $1,000 prize from Blue Ridge Electric.
"I find it so admirable that someone who has moved into our community in retirement has given so generously to make such a positive impact for his neighbors," says Carolyn Keese of Seneca, who nominated Harlin for the award. "Mike has also worked with Habitat for Humanity and aided those who were hard hit by the tornado in 2020."
Under Harlin's leadership, Golden Corner Pantry began offering Client-Choice Shopping so their clients can fill their own carts with the food they need. Harlin says they also recognized the transportation difficulties that some face, so now a mobile food pantry travels to locations in Oconee County like Salem, Mountain Rest and Long Creek.
"As you put yourself in their shoes and you hear their stories, you want to help," says Harlin. "I'm blessed by seeing examples of people around me who give of their time and money. I just continue to feed off of that."
To find out more or to support The Golden Corner Food Pantry, visit goldencornerpantry.org.
Are you inspired by someone making a difference in our community? Tell us their story and they could win a prize from Blue Ridge Electric Cooperative. We are now accepting nominations for the 2023 Who Power You contest. Visit ecsc.org/WhoPowersYou for full contest rules and to nominate the person that inspires you.