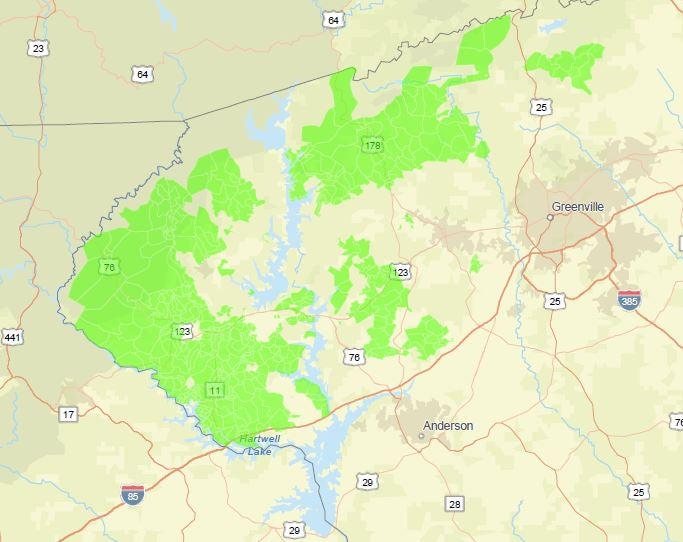 Geographical areas in green will see broadband delivered in 2023.
Upcountry Fiber, the internet service provider created by utility cooperatives Blue Ridge Electric Co-op (BREC) and WCFIBER, a subsidiary of West Carolina Rural Telephone Cooperative (WCTEL), has been awarded a $24 million grant from American Rescue Plan Act (ARPA) Funds Appropriation Bill to help bridge the "digital divide" where little to no access exists. Approximately 8,200 new customers in rural and underserved areas of Oconee and Pickens counties will have access to high-speed fiber internet service by the end of 2023.
Specifically, Upcountry Fiber will build out its network in these areas:
Oconee County – Coneross, Fair Play, Long Creek, Mountain Rest, Oakway, and Toccoa Highway in Westminster
Pickens County – Rocky Bottom area in Northern Pickens County above Highway 11 and Shady Grove area in Pickens 
"We are very thankful that our legislators have ensured rural and underserved communities in Oconee and Pickens Counties have even more potential for competitive growth by allocating funds to build out this necessary utility service," said Jim Lovinggood, chief executive officer of BREC.
For more information visit www.upcountryfiber.com.